The only tour in Cozumel and the Riviera Maya to offer you an opportunity to view the Chichen Itza Mayan Ruins at night in a single day tour, you'll not only get a fascinating tour of this new Wonder of the World, but you'll also have an opportunity to view the famous Chichen Itza Light and Sound Spectacular before heading back to Cozumel.
Chichen Itza On-Your-Own Highlights

Enjoy air-conditioned round-trip transportation to the Mayan ruins site!

Visit the famous Samaula Underwater Grotto, a former Mayan sacrifice site, where you can swim, take photos, and relax!

Feast on a Mexican buffet dinner, complete with 2 drinks!

Take a guided tour of the ruins site, with a certified archaeological guide who will amaze you with the legends and history of the Mayas!

Journey back in time as you witness the Chichen Itza Light and Sound Spectacular, a visual and audio look at the ancient Mayan Empire!
Cruise Passengers: Sorry, this tour is too long for most cruise ship schedules. If you're in doubt, ask us.
When: Wednesdays at approximately 8:30 AM. Exact pick-up time may vary, but will be shown on your ticket.
Where: Meet at Plaza Paseo del Carmen in Playa del Carmen, one block from the ferry terminal. You will need to take the passenger ferry over from Cozumel on your own to meet the tour. See Ferry Information
How Long: Approximately 13 Hours. Return is after 11:00 PM.
'Includes:
Round-trip, Air-Conditioned Transportation from Playa del Carmen.
Continental Breakfast
Beverages on board (soft drinks and water).
Buffet Dinner (w/ 2 beers, soft drinks or waters)
Mexican Folkloric Show
Entrance Fee to Chichen Itza
90 minute Guided Tour of the Ruins Site
Certified Bilingual Guide
Visit to a Sacred Cenote (Underwater Grotto)
CHICHEN ITZA LIGHT & SOUND (ADULTS)

Ship Price

Cozumel Price

Our Price

You Save!

N/A
$89.00

$79.00

10%

Prices are Per Person and Include All Taxes and Fees.

CHICHEN ITZA LIGHT & SOUND (KIDS 5-12)

Ship Price

Cozumel Price

Our Price

You Save!

N/A
$55.00
$49.50
10%
THIS TOUR IS NO LONGER AVAILABLE
BOOK NOW AND SAVE!

Date

Time

Adults

Kids



OR CALL US TOLL-FREE
1-866-728-1438


Don't worry - English is our First Language!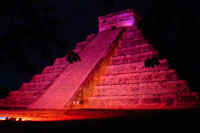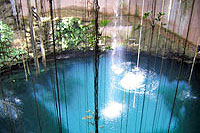 FREE WITH YOUR RESERVATION!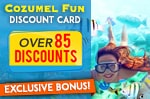 THE COZUMEL FUN CARD
Don't Forget:
Hat
Camera
Guidebook
Money for Drinks
Drink Lots of Water
Swimsuit
Kids: All ages welcome. Kids prices apply to ages 5 through 12.
CRUISE TERMINAL LOCATIONS

Punta Langosta

Walk To Ferry
International Pier
7 Min. by Taxi
Puerta Maya
7 Min. by Taxi
Check with your ship to see which pier you are arriving at.
Taxis are lined up waiting for you as you get off the ship. Very easy. Should cost only about $8.00 USD from Intl and Puerta Maya piers. to get to the ferry terminal.
See Ferry Information
Note: Usually this tour gets back in time to take the last ferry back to Cozumel. However, not always. We advise to secure a place to sleep in Playa del Carmen if you want to see the night show, just in case. We think this is best anyway, you get back late, it's nice to rest your head instead of riding the ferry back. If this doesn't sound like something you want to do, we would advise picking the daytime Chichen Itza tour (no light show) instead.