Hi, our names are Johann & Sandra. We first visited Cozumel to go scuba diving over the Millenium in 1999, and were love struck by the fabulous coral reefs and the laid back island feel. We've had a soft spot in our heart for Cozumel ever since. Since 2003, when we opened Cancun Discounts, we've been working in the Cancun, Riviera Maya and Cozumel areas, bringing you the best tours in the area for the best prices.
In mid-2007, we made the decision to focus more attention on Cozumel, as we were getting many more requests for Cozumel excursions than we were offering at the time. Cozumel Tours made it's debut in March, 2008, our first website dedicated exclusively to fun activities on the island. Of course, we brought our famous discounts with us - offering the best prices on the island for every tour - plus we decided to offer our exclusive Cozumel Fun Discount Card FREE with every tour reservation as a special thank you to our customers. It's the only discount card on the island.
Our best-in-the-business English-speaking customer service is handled locally in Mexico, while we process all our transactions securely in the USA. This not only keeps your money safe, but saves you from any foreign transaction fees. We answer the phones only in English, and are available 7 days a week to assist you, from 7:00 AM to 11:00 PM. We are fully insured and licensed, and are the only company in Cozumel to be endorsed by both the American Society of Travel Agents (ASTA) and the International Air Transport Association (IATA), the two major associations monitoring the travel industry.
We offer Cozumel's best No-Port, No-Pay policy for our cruise passengers - if your cruise ship doesn't make port, you don't pay! There is no risk to book with us.
No hassles, no worries - we're here to help!
Other Sites by Johann & Sandra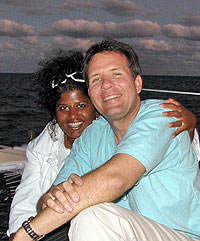 Johann & Sandra
Pronounced "Yo-Haun"
(like Johann Sebastian Bach)
Originally From:
Johann: Vancouver, WA
Sandra: Torshälla, Sweden
As Featured In:
USA Today
Islands
Travel Channel

ID #900165250