The ancient Mayan Ruins site of Chichen Itza awaits you. This mystic place is the top attraction in the Riviera Maya area, and you can see it during your stay in Cozumel! Just ride the passenger ferry over to Playa del Carmen where the tour will pick you up and take you to explore this important city of the Mayan civilization.

Chichen Itza Clasico Highlights

Enjoy air-conditioned round-trip transportation to the Mayan ruins site!

Make a visit to a famous underwater grotto, which was a sacred well of the Mayas. Here you can swim if you like, or just take photographs!

Feast on a Mexican buffet lunch at a local restaurant!

Take a guided tour of the ruins site, with a certified archaeological guide who will amaze you with the legends and history of the Mayas!

After the tour, have a full 1.5 hours of free time to explore, shop for souvenirs and take photos!
Cruise Passengers: Sorry, this tour is too long for most cruise ship schedules. If you're in doubt, ask us.
When: Daily Except Saturdays at 7:45 AM
Where: Meet at the ferry terminal in Playa del Carmen, by Senor Frogs. You will need to take the passenger ferry over from Cozumel on your own to meet the tour. See Ferry Information
How Long: Approximately 13 Hours.
'Includes:
Round-trip, Air-Conditioned Transportation from Playa del Carmen.
Certified English Speaking Tour Guides
Entrance Fees to Chichen Itza
Buffet Lunch at a Local Restaurant
45 Minute Stop at a Cenote (you can swim)
90 minute Guided Tour of the Ruins Site
90 minutes Free Time to Explore on Your Own
CHICHEN ITZA CLASSIC (ADULTS)

Cozumel Price

Our Price

You Save!

$75.00

$65.00

10%

Prices are Per Person and Include All Taxes and Fees.

CHICHEN ITZA CLASSIC (KIDS 5-12)

Cozumel Price

Our Price

You Save!

$55.00
$49.50
10%
BOOK NOW AND SAVE!

Date

Time

Adults

Kids



OR CALL US TOLL-FREE
1-866-728-1438


Don't worry - English is our First Language!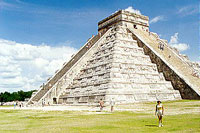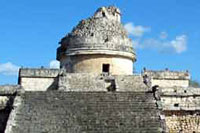 FREE WITH YOUR RESERVATION!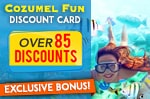 THE COZUMEL FUN CARD
OUR ADVICE:
This is our most popular Chichen Itza tour, and for good reason. It's probably the best value of any tour in Cozumel or the Riviera Maya. Make sure to eat breakfast before you go or bring snacks with you. It's a long drive, so some reading material or entertainment is a good idea too.
Don't Forget:
Hat for Sun Protection

Camera

Guidebook

Money for Drinks
Drink Lots of Water
Swimsuit
Kids: All ages welcome. Kids prices apply to ages 5 through 12.

CRUISE TERMINAL LOCATIONS

Punta Langosta

Walk To Ferry
International Pier
7 Min. by Taxi
Puerta Maya
7 Min. by Taxi
Check with your ship to see which pier you are arriving at.
Taxis are lined up waiting for you as you get off the ship. Very easy. Should cost only about $8.00 USD from Intl and Puerta Maya piers. to get to the ferry terminal.
See Ferry Information