The Tulum Mayan Ruins are the ruins site most visited by people staying on Cozumel and for Cozumel's cruise ship passengers alike. Located on the mainland of the Riviera Maya, Tulum is only 45 minutes south of the Playa del Carmen ferry pier, which makes it ideal for a quick jump over, especially when time is limited.
Whether you take a guided ruins tour, or decide to explore on your own, you'll have about 1.5 hours at Tulum. You can take photos, explore, shop for souvenirs, or even walk down to the beautiful beach below the ruins to relax for a bit before heading back. Want more time? Not a problem. You can just add extra hours onto your tour when booking. Want to stop and see other attractions too? We're happy to customize a tour for you. After you've seen the Mayan ruins of Tulum, your driver will take you back to Playa del Carmen, where you'll ride the ferry back to Cozumel. It's so easy, and what a great price!

SAMPLE ITINERARY FOR CRUISE SHIP PASSENGERS
8:00AM - Arrive Cozumel
9:00AM - Ferry to Playa del Carmen
9:45AM - Arrive Playa del Carmen, Meet Tour
10:30AM - Arrive Tulum
1:00PM - Depart Tulum
1:45 PM - Arrive Playa del Carmen
(Optional: Stay and have lunch in Playa del Carmen)
3:00PM - Ferry to Cozumel
3:45PM - Arrive Cozumel
4:00PM - Back to Ship
Cruise Passengers: Yes! This tour makes a great shore excursion. You'll need to ride the ferry over to Playa del Carmen on your own, but then your driver will be there to meet you right on the other side.
When: Daily on Your Schedule.
Where: Meet at the ferry terminal in Playa del Carmen. You will need to take the passenger ferry over from Cozumel on your own to meet this tour. See Ferry Information
How Long: Approximately 4 Hours.
Additional Hours: $50 Per Hour
'Includes:
Transportation in an Air-Conditioned Van
All Fuel and Parking Fees
Private English-Speaking Driver
TULUM PRIVATE EXPRESS (1-8 PEOPLE)

Ship Price

Cozumel Price

Our Price

You Save!

N/A
$255.00

$235.00

10%

Prices are Total Cost, not per person. This price will guarantee you a private vehicle with non-stop service.
Additional Hours: $50.00 (per hour).

TULUM PRIVATE EXPRESS (9-14 PEOPLE)

Ship Price

Cozumel Price

Our Price

You Save!

N/A
$298.00
$265.00
10%
BOOK NOW AND SAVE!
NOTE: Prices shown apply to Cozumel guests meeting the tour at the ferry pier in Playa del Carmen. If you are staying in Playa del Carmen or Riviera Maya, please click here for pricing.

VEHICLE FOR 1-8 PEOPLE

VEHICLE FOR 9-14 PEOPLE

Date

Time

Number of
People
Add Extra
Hours

Date

Time

Number
of People
Add Extra
Hours

OR CALL US TOLL-FREE
1-866-728-1438


Don't worry - English is our First Language!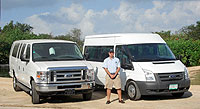 FREE WITH YOUR RESERVATION!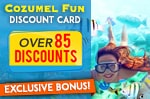 THE COZUMEL FUN CARD
Don't Forget:
Camera
Comfortable Walking Shoes
Hat
Food and Drinks (or buy)
Extra Money (see below).
Not Included:
Entrance Fees: $5 adults, $2 kids
Notes:
A private guide can be hired at the Tulum entrance gate for 500 pesos (about $40) for 1-4 people, 560 pesos for 5-8 people (about $45) or 625 pesos for 9-12 people (about $50). Your driver will show you where to go. This fee is for your whole group to have your own private guide for a 45-minute tour. You also have the option of just exploring on your own without a guide.
If you plan to use a video camera inside Tulum, you will need to pay a $3.50 USD government video tax.
Kids: All ages are welcome. Kids are the same price as adults.
CRUISE TERMINAL LOCATIONS

Punta Langosta

Walk To Ferry
International Pier
7 Min. by Taxi
Puerta Maya
7 Min. by Taxi
Check with your ship to see which pier you are arriving at.
Taxis are lined up waiting for you as you get off the ship. Very easy. Should cost only about $8.00 USD from Intl and Puerta Maya piers. to get to the ferry terminal.
See Ferry Information