Delve into one of the most closely held traditions of the Mayan civilization, Temazcal, in this cultural celebration of ancient Mayan life. If you like to relax, enjoy an occasional sauna, and experience an important component of the Mayan culture, this excursion is for you.
Derived from the ancient Aztec Nahuatl dialect word for "house of steam", Temazcal is a cleansing, relaxing, and purification therapy for the nervous system and promotes the reactivation of skin cells. The elimination of fat and stimulation of the blood vessels is activated in the bath, bringing also beneficial effects to the respiratory, circulatory and digestive systems. This is a holistic experience for men and women alike.
You will be led through the various phases of the process, from the recognition of North, East, South and West and their significance to the Mayans with the smudging ceremony. Then you will get into the Temazcal, where you will experience the four phases of cleansing and the five points of visualizations. After one hour in the Temazcal you will emerge reborn and rejuvenated.
As part of the cooling down process, you are invited to bath in the fresh water cenote only a few steps from the Temazcal or rinse off in a freshwater shower. Then feel free to enjoy and relax in a hammock while delighting in the fresh fruits and juices which are grown and harvested on the Xkan-Ha Reserve. As a departing gift each guest will be given a glyph as a necklace indicating the participantís birthday according to the Mayan calendar.
Temaczal Mayan Steam Lodge Tour Highlights
Arrive to Xkan Ha reserve, in the middle of the jungle, where you will be welcome to lay down in one of our hammocks to:

Get a detailed explanation about the history and differences of the different sweat baths and off course the Temazcal. The vast uses and purposes as an ancient medicine practice. Its significance to the Mayans. The close relationship between the Temazcal and the Mayan calendar, etc.

Participate in the four elements and smudging ceremony.


Enter into the Temazcal sweat bath, where we will remain for about one hour, controlling and increasing the temperature slowly.

Jump into the cenote (natural sink hole fresh water) to cool down the body temperature, constrain the blood vessel, close pores, etc.

Enjoy our fresh juices and fruits as part of the re hydration and recovering of minerals.

Receive your Xkan-Ha souvenir. A necklace wit your Mayan glyph and energetic signature, by decoding your birth date according to the Mayan calendar.

Sleep as a baby during that night, and hope be a new person.
When: Three times daily, Monday through Saturday at 9:00 AM, 1:00 PM, and 5:00 PM.
Where: Complimentary pick-up from your cruise ship or Cozumel hotel.
How Long: 4 Hours approximately.
TEMAZCAL STEAM LODGE (ADULTS & KIDS)

Ship Price

Cozumel Price

Our Price

You Save!

$99.00
$80.00

$72.00

27%

Compare to your ship's "Temazcal Mayan Steamlodge" Excursion. Same tour, better price!
DUE TO DEMANDS PLACED ON THE TOUR OPERATOR BY CARNIVAL CRUISE LINES, THIS TOUR IS NOW ONLY AVAILABLE TO CRUISE PASSENGERS, AND ONLY BY BOOKING DIRECTLY WITH YOUR SHIP.
BOOK NOW AND SAVE!

Date

Time

People



OR CALL US TOLL-FREE
1-866-728-1438


Don't worry - English is our First Language!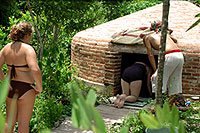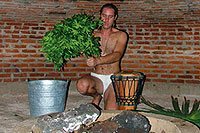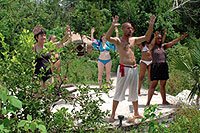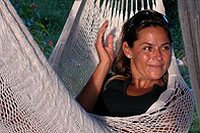 FREE WITH YOUR RESERVATION!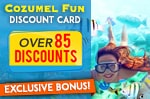 THE COZUMEL FUN CARD
Includes:
Round-Trip Transportation

Explanation of Temazcal

Four Elements and Smudging Ceremony

Temazcal Bath

Cenote

Water, Juice, and Fruit

Mayan Glyph with Energetic Signature

English Speaking Instructor
Don't Forget:
Swimsuit and Towel
Comfortable, Dry Clothes
Sandals
Kids: Ages 14 and up. Kids same price as adults.
Restrictions: Pregnant women, or those with heart conditions, or under the influence of alcohol or drugs are not permitted.
Avoid: Use of Make-up, Sunscreen or Products that block the your sweat glands, alcohol and/or heavy meals 1 hour before the Temazcal.
Bonus: No picture man and no craft vendors will show up!