The only Cozumel ATV Tour where you can ride on the beach! This is a full day of fun in Cozumel. Start with a fast and fun ATV tour, where you'll ride on the beach and through banked trails cut from the Mayan Jungle. Then it's time to relax and have a blast for the rest of your day at the beach! You'll have a delicious buffet lunch, then you can stay at Mr. Sancho's Beach Club afterward and enjoy the facilities for the rest of the afternoon. An awesome day!
Hop on your Yamaha 350cc Grizzly ATV and ride into the tropical rain forest, bolting down banked turns and jungle trails, over rocky and sandy paths. Feel your adrenaline pumping as you go faster and faster with each turn! Now blast out from the forest onto the beautiful sand dunes, where you can let em really rip!
THIS TOUR IS NO LONGER AVAILABLE
PLEASE SEE OUR CURRENT SELECTION OF
ATV TOURS


Mr. Sancho's ATV Adventure

Enjoy a high-powered ATV Adventure, aboard your 350cc Yahama Grizzlys. No girly-man ATVs here, only the big daddys!

Feast on a hot-cooked lunch from the menu - totally complimentary!

Swim in the beautiful Caribbean Sea, or use the amazing infinity pool!

Relax under the palapas and enjoy beachside service from the restaurant and bar!

Shop at the on-site flea market, enjoy an on-site massage, or enjoy exciting Watersports and beach activities! (These activities cost extra).
When: Arrive when you want, leave when you want!
Where: Mr. Sancho's Beach Club (See Map)
How Long: As long as you want! Beach Club hours are from 9:00 AM to 5:00 PM.
Includes:
30-Minute Beach & Jungle ATV Tour

Lunch from the Menu

Soft Drinks

Beach Break at the Famous Mr. Sancho's

Beachside Service

Infinity Pool

Jacuzzi

Private Beachside Palapas

Beautiful Beach and Designated Swimming Area

Massages Available Onsite (not included)
MR. SANCHO'S ATV ADVENTURE (SOLO ATV)

Ship Price

Cozumel Price

Our Price

You Save!

N/A
$65.00

$58.50

10%

Prices are Per Person.
Optional: Add a Massage to your Day!

MR. SANCHO'S ATV ADVENTURE (SHARED ATV)

Ship Price

Cozumel Price

Our Price

You Save!

N/A
$54.50
$49.00
10%
Shared ATV price is for each person,
so it would be a total of $98.00 per ATV for 2 adults.
One adult and One Child sharing an ATV would be $87.75

MR. SANCHO'S ATV ADVENTURE (KIDS 1-8)

Ship Price

Cozumel Price

Our Price

You Save!

N/A
$52.00
$38.75
25%
THIS TOUR IS NO LONGER AVAILABLE
PLEASE SEE OUR CURRENT SELECTION OF
ATV TOURS


BOOK NOW AND SAVE!

Qty is the number of ATVs you want. If two people want to ride on one ATV, choose a Qty of 1, Shared ATV, and "Book Now". If you have another person who wants their own ATV, click "Add More Tours" in the shopping cart, and add them to your cart too, choosing Qty of 1 with a Solo ATV.

Date

Time

Qty

Choose One



OR CALL US TOLL-FREE
1-866-728-1438


Don't worry - English is our First Language!
FREE WITH YOUR RESERVATION!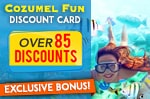 THE COZUMEL FUN CARD
OUR ADVICE:
A fabulous way to spend a day in Cozumel or if you're on a cruise. Good snorkeling here (shipwreck) and this is probably the best beach on all of Cozumel Island.
Don't Forget:
Swimsuit
Towel
Extra Money for Watersports, Shopping
Camera
Hat
Sunglasses
Credit Card for Damage Deposit
Kids: All ages welcome as passengers but must be 16 years old to drive. Parents will need to sign a waiver for all kids under 18 years old. Kids prices apply to ages 1-8. Ages 9 and up are considered adults.
Optional Add-On: Massage
CRUISE TERMINAL LOCATIONS

Punta Langosta

15 Min. by Taxi
International Pier
8 Min. by Taxi
Puerta Maya
7 min. by Taxi
Check with your ship to see which pier you are arriving at.
Taxis are lined up waiting for you as you get off the ship. Very easy.

Should cost about $14.00 USD from the cruise ship piers.
See all our ATV Tours