This is definitely one of the most unique tours in Cozumel. You will actually fully submerge in a real submarine, and dive to depths of 100 feet beneath the surface of the water. Just like in the movies! From beneath the sea, you'll see the wonders of underwater Cozumel go by before your eyes. Take photos through the clear plastic windows, and witness the coral reefs of Cozumel without even getting wet!

Atlantis Submarine Highlights

Dive to depths of 100 feet in a REAL submarine!

Marvel at the huge variety of tropical fish including parrotfish, grunts, and groupers as your captain expertly navigates through magnificent 30-foot coral heads, all in air-conditioned comfort!

Listen as your captain and crew provide you with expert narration all throughout your voyage, opening your eyes to the underwater world of Cozumel!
Cruise Passengers: This tour is available to all cruise passengers except those on Carnival ships.
When: Monday through Saturday at 9:00 AM, 10:00 AM, 11:00 AM, 12:00 PM and 1:00 PM
Where: Meet at the Atlantis Submarine retail location at Carratera a Chankanaab (in front of the Casa del Mar Hotel) in the South Hotel Zone.
How Long: 1 Hour and 40 Minutes Approximately
Itinerary:
0:00 - Board Tender Vessel
0:12 - Arrive Dive Site
0:22 - Transfer to Atlantis Submarine
1:02 - Tour is Completed and Sub Resurfaces
1:22 - Transfer from Sub to Tender Vessel
1:32 - Tender Arrives at Dock
1:40 - Guests Invited to Visit Retail Shop to Receive Dive Certificate
'Includes:
10 minute Boat Ride To and From Submarine
40 Minute Narrated Submarine Tour
Complimentary Rum Punch or Fruit Punch
ATLANTIS SUBMARINE (ADULTS)

Ship Price

Cozumel Price

Our Price

You Save!

$119.00
$105.00

$94.00

20%

Compare to "Atlantis Submarine" Excursion
Prices are Per Person and Include All Taxes.

ATLANTIS SUBMARINE (KIDS 4-12)

Ship Price

Cozumel Price

Our Price

You Save!

$79.00
$65.00
$58.50
25%
IMPORTANT NOTE
THIS TOUR IS NOT AVAILABLE TO CARNIVAL CRUISE PASSENGERS. IT IS AVAILABLE TO EVERYONE ELSE

BOOK NOW AND SAVE!

Date

Time

Adults

Kids



OR CALL US TOLL-FREE
1-866-728-1438


Don't worry - English is our First Language!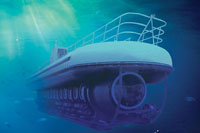 FREE WITH YOUR RESERVATION!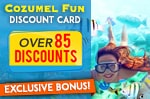 THE COZUMEL FUN CARD
OUR ADVICE:
This is a great way for people who can't swim or young kids to get to see the underwater magic of Cozumel without getting wet. Better than any Glass Bottom Boat Ride, hands down.
Don't Forget:
Camera
(If film, use 400 speed or higher for best results)
$2.50 Marine Park Fee
Kids: 4 Years Old and Up. Must be at least 3 feet tall. Kids prices apply to ages 4-12.
Restrictions: Wheelchair guests are welcome to participate if they can safely navigate a 7-step ladder. People with claustrophobia should probably not do this tour. Waistline must be less than 39".
CRUISE TERMINAL LOCATIONS

Punta Langosta

5 Min. by Taxi
International Pier
2 Min. by Taxi
Puerta Maya
2 min. by Taxi
Check with your ship to see which pier you are arriving at.
Taxis are lined up waiting for you as you get off the ship. Very easy. Should cost only about $8.00 for a taxi for up to 4 passengers.