There are few more exciting or amazing things than seeing an endangered Sea Turtle in the wild. One of the few places in the world where sea turtles congregate to feed and lay eggs is right here in the Yucatan - beautiful Akumal Bay.
This tour crosses from Cozumel over to the mainland, where you will first snorkel in a tranquil, shallow, and fabulous lagoon, before heading to Akumal where you'll actually snorkel with wild sea turtles that come into the bay to feed on lush turtle grass.
Sea Turtle Snorkeling Tour Highlights

Take the Cozumel ferry to the mainland, where you'll snorkel in beautiful Yal-Ku Lagoon. The clear, calm water here is only 14 feet deep, making for great snorkeling conditions.

Visit the stunning Akumal Bay, where you can actually snorkel with real live sea turtles! Hawksbill, Loggerhead, and Green sea turtles inhabit the bay.

Enjoy lunch and Open Bar on the Beach in beautiful Akumal during your beach break!
When: Monday through Saturday at 8:30 AM
Where: Meet in front of the Playa del Carmen Ferry Pier in downtown Cozumel.
How Long: 8 Hours Approximately.
Includes:
Round-trip Ferry Transportation from Cozumel
Air-conditioned transportation on the Mainland
Entrance Fees to Yal-Ku and Akumal Bay
BBQ Lunch at Akumal Bay
Open Bar at Akumal Bay
Snorkeling Equipment
Bilingual Tour Guides
SEA TURTLES & YAL-KU LAGOON (PER PERSON)

Adults

Kids

$110.00

$110.00

Prices are Per Person and include all taxes.
THIS TOUR IS NO LONGER AVAILABLE
SEE OUR SEA TURTLE SNORKELING
BOOK NOW AND SAVE!

Date

Time

People



OR CALL US TOLL-FREE
1-866-728-1438


Don't worry - English is our First Language!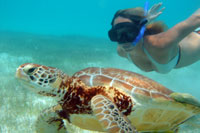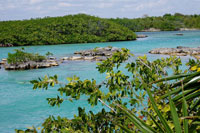 FREE WITH YOUR RESERVATION!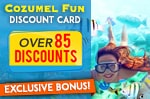 THE COZUMEL FUN CARD
OUR ADVICE:
There is nowhere else in the Mexican Caribbean where you can see this many sea turtles. Seeing one underwater is very cool.
Don't Forget:
Drivers License
Swimsuit
Towel
Camera
Hat
Kids: This tour is recommended for ages 8 and up.
CRUISE TERMINAL LOCATIONS

Punta Langosta

Short Walk
International Pier
7 Min. by Taxi
Puerta Maya
7 min. by Taxi
Check with your ship to see which pier you are arriving at.
Taxis are lined up waiting for you as you get off the ship. Very easy. Should cost only about $6.00 USD from Intl and Puerta Maya piers.