The ultimate glass bottom boat in Cozumel! A fun opportunity for the whole family to view the underwater world of Cozumel Mexico without getting wet! You have two options here, you can ride on top of the semi-sub, and take photos of the Cozumel skyline, or you can step into the underwater viewing room, which is glass, all the way around, providing you with 360 degrees of underwater magic.
Reef Explorer Semi-Sub Highlights

See the coral reefs and tropical marine life in their natural environment, from the underwater viewing chamber!

See why Cozumel is one of the world's best dive destinations, as you cruise over Paradise Reef!

Take photographs of the Cozumel shoreline and also photos of tropical reef marine life in one fun tour!
When: Monday through Saturday at 8:00 AM, 10:00 AM and 12:00 PM.
Where: Meet at Aqua Bar, next to the International Cruise Pier.
How Long: 1.5 to 2 hours.
Includes:
OCEAN VIEW EXPLORER (ADULTS)

Ship Price

Cozumel Price

Our Price

You Save!

$49.00
$42.00

$39.00

20%

Compare to your ship's "Reef Explorer" Excursion!

OCEAN VIEW EXPLORER (KIDS 3-12)

Ship Price

Cozumel Price

Our Price

You Save!

$49.00
$31.00

$29.50

40%
TEMPORARILY UNAVAILABLE - CALL FOR DETAILS
1-866-728-1438

BOOK NOW AND SAVE!

Date

Time

Adults

Kids



OR CALL US TOLL-FREE
1-866-728-1438


Don't worry - English is our First Language!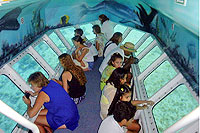 FREE WITH YOUR RESERVATION!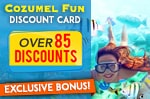 THE COZUMEL FUN CARD
Don't Forget:
Kids: All Ages Welcome. Minors must be accompanied by an adult.
Note: Not recommended for claustrophobic people.
CRUISE TERMINAL LOCATIONS

Punta Langosta

6 min. by Taxi
International Pier
Short Walk
Puerta Maya
1 min. by Taxi
Check with your ship to see which pier you are arriving at.
Taxis are lined up waiting for you as you get off the ship. Very easy. Should cost only about $5.00 USD from the Punta Langosta Pier.