Here is a new tour in Cozumel that will take your snorkeling experience to a whole new level! Using your own Aqua Tiger Ray power underwater scooter, you'll be propelled effortlessly through the marine ecosystem of Cozumel, where you'll see the tropical fish and coral that made Cozumel one of the world's most famous snorkeling destinations.
The excursion begins with a safety demonstration, and expert instruction on how to use your scooter underwater. After instruction, you'll get to board your scooter and let the excitement begin! You'll cruise through the crystal clear blue waters like James Bond, in a unique and thrilling experience!
Power Snorkeling Tour Highlights

Receive expert instruction from your PADI Certified Snorkeling Guide on how to use the Scooter!

Using your own power underwater scooter, rocket through the blue Caribbean Waters of Cozumel, AGAINST the current, with effortless ease, as the marine ecosystem fills in around you!

Witness a seemingly endless array of tropical fish, plus soft coral reefs, and possibly other marine life like manta rays, moray eels, sea turtles, and more!
When: Monday through Saturday at 8:00 AM, 10:00 AM, 12:00 PM and 2:00 PM.
Where: Departs from Aqua Bar next to the International Cruise Pier.
How Long: 1 Hour approximately, including instruction.
Includes:
Personal Underwater Power Scooter

PADI Certified Snorkeling Guide

Snorkeling Equipment

35-45 Min. of Snorkeling Time at 3-20 ft. Deep
POWER SCOOTER (ADULTS & KIDS)

Ship Price

Cozumel Price

Our Price

You Save!

$79.00
$49.00

$44.00

45%

Compare to Your Ship's "Cozumel Power Snorkel" Excursion.
TEMPORARILY UNAVAILABLE - CALL FOR DETAILS
1-866-728-1438

BOOK NOW AND SAVE!

Date

Time

People



OR CALL US TOLL-FREE
1-866-728-1438


Don't worry - English is our First Language!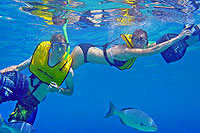 FREE WITH YOUR RESERVATION!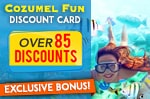 THE COZUMEL FUN CARD
Don't Forget:
Kids: Ages 12 and up. Under 18 years old require the supervision of parent or legal guardian. Kids same price as adults.
Restrictions: People with heart problems, asthma, diabetes, epilepsy, or any condition that would keep a person out of the water should not do this tour. A responsibility waiver will need to be signed prior to admission.
CRUISE TERMINAL LOCATIONS

Punta Langosta

6 min. by Taxi
International Pier
Short Walk
Puerta Maya
1 min. by Taxi
Check with your ship to see which pier you are arriving at.
Taxis are lined up waiting for you as you get off the ship. Very easy. Should cost only about $5.00 USD from the Punta Langosta pier to get to the Aqua Bar.