Join a true adventure expedition, as you travel via your Mercedes Benz Unimog to remote cenotes, where you can snorkel in the subterranean rivers of the Riviera Maya. Marvel at the stone formations of these cenotes, found only in the Yucatan area of Mexico. Also swim in the area's most beautiful natural swimming pool and relax in hammocks. Then meet the Mayan residents of the area - a real adventure tour!
THIS TOUR IS NO LONGER AVAILABLE
SEE OUR NEW JUNGLE MAYA EXPEDITION
Nohoch Jungle Crossing Highlights

Ride in a 4x4 Safari Truck to the small Mayan Village of Rancho San Felipe, where you'll engage in a snorkeling adventure through the Nohoch Nah Chich cenote system - the second longest in the world!

Observe stunning stalactite and stalagmite formations from the crystal-clear water of these underground rivers!

Learn about the local biodiversity with a nature hike through the jungle and observe a mangrove!

Visit Yaxmuul Cenote, for more snorkeling in these amazing natural creations, the Cenotes of the Yucatan. You can also relax in the Hammocks!

Enjoy a delicious lunch prepared by the Mayan women of the village!

Visit a Mayan Ranch and meet it's inhabitants, a small Mayan family that has lived in this remote jungle location for over 30 years!
Cruise Passengers: Yes! This excursion is open to all cruise passengers as well as hotel guests. Escape the crowded cruise excursions with this exclusive tour.
When: Monday through Saturday at approximately 8:30 AM.
Where: Meet at Plaza Playacar in Playa del Carmen, one block from the ferry terminal. You will need to take the passenger ferry over from Cozumel on your own to meet this tour. See Ferry Information
How Long: Approximately 5 Hours.
'Includes:
4x4 Adventure Ride in a Mercedes Benz Unimog
Snorkeling Equipment
All Day Multilingual Adventure Guide
Mayan Guides at Locations
Entrance Fees to Nohoch and Yaxmuul
Buffet Lunch and Soft Drinks
Bottled Water
NOHOCH JUNGLE CROSSING (ADULTS)

Ship Price

Cozumel Price

Our Price

You Save!

N/A
$115.00

$89.00

23%

Prices are Per Person and Include All Taxes and Fees.

NOHOCH JUNGLE CROSSING (KIDS 6-12)

Ship Price

Cozumel Price

Our Price

You Save!

N/A
$105.00
$80.00
24%
THIS TOUR IS NO LONGER AVAILABLE
SEE OUR NEW JUNGLE MAYA EXPEDITION
BOOK NOW AND SAVE!

Date

Time

Adults

Kids



OR CALL US TOLL-FREE
1-866-728-1438


Don't worry - English is our First Language!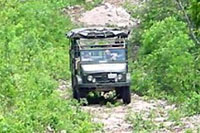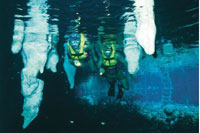 FREE WITH YOUR RESERVATION!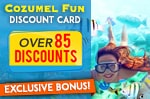 THE COZUMEL FUN CARD
OUR ADVICE:
A true adventure tour. The unimog alone makes for a wild ride. Cruise ship passengers won't be able to do this tour, as it is too long for most cruise schedules.
Don't Forget:
Camera
Sport Shoes, Boots, or Ankle Strap Sandals (no flip flops)
Hat
Eco-Friendly Insect Repellent
Wear Your Swimsuit
Extra Clothes
Extra money for photos, videos, drinks, tips, etc.
Kids: Ages 6 and up.
Restrictions: This expedition is not recommended for people with severe back problems, any severe physical or motor handicap, serious heart problems, or for obese people or for those who suffer from claustrophobia or do not know how to swim. Children under 6 years, pregnant women and people under the effects of alcohol or drugs will not be permitted to participate in this expedition.
CRUISE TERMINAL LOCATIONS

Punta Langosta

Walk To Ferry
International Pier
7 Min. by Taxi
Puerta Maya
7 Min. by Taxi
Check with your ship to see which pier you are arriving at.
Taxis are lined up waiting for you as you get off the ship. Very easy. Should cost only about $6.00 USD from Intl and Puerta Maya piers. to get to the ferry terminal.
See Ferry Information