If you've never been snorkeling before, and aren't really sure how to do it properly, or if you have snorkeled, but would like to learn some more advanced techniques to enhance your snorkeling experience, then this is the class for you. In about 3 hours, our certified PADI instructors will teach you the skills necessary to turn comfortable swimmers into comfortable and confident snorkelers.
THIS TOUR IS NO LONGER AVAILABLE
SEE OUR OTHER SNORKELING TOURS
Note: This is an actual PADI-Sponsored Course. You will receive a certification card at the end.

PADI Skin Diver Course Highlights

Learn all the skills necessary to fully enjoy snorkeling on Cozumel's beautiful coral reefs!

Receive official PADI certification, and receive a certification card showing your status as a certified Skin Diver!

Learn the art of Surface Diving, Skin Diving, and other forms of natural-air diving!

Learn to clear your snorkel after diving so you never have to take your face out of the water!

Gain confidence and security so you can fully enjoy yourself on any snorkeling tour in the future!
Cruise Passengers: Yes! This tour makes a great shore excursion. Leave the cruise ship crowds far behind!
When: Daily on Request
Where: Marina Caleta, just south of the International Pier. Detailed directions will accompany your reservation confirmation.
How Long: 3 Hours approximately. May be split into two 90 minute sessions if you like.
Includes:
Hands-on Expert Instruction

All Equipment

Certified Experienced In-Water Snorkeling Instructor

PADI Skin Diver Certification Card
Requires: No experience or certification required. You must know how to swim. $25 PADI Certification fee to receive your card and register you as a certified Skin Diver.
PADI SKIN DIVER COURSE (SNORKELING)

Ship Price

Cozumel Price

Our Price

You Save!

N/A
$40.00

$36.00

10%

Includes All Equipment.
$25 Certification Fee is a requirement of PADI.
THIS TOUR IS NO LONGER AVAILABLE
SEE OUR OTHER SNORKELING TOURS

BOOK NOW AND SAVE!

Date

Time

People

Finish!

OR CALL US TOLL-FREE
1-866-728-1438


Don't worry - English is our First Language!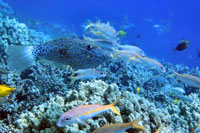 FREE WITH YOUR RESERVATION!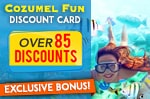 THE COZUMEL FUN CARD
OUR ADVICE:
This course is not necessary to go snorkeling. Anyone can snorkel. What this does is help you become a GOOD snorkeler. Instead of just splashing around and seeing some fish, you can dive, breathe without lifting your head out of the water, and other skills that make it much more fun. Delve into the underwater world instead of only watching it from above!
If you're nervous about snorkeling, it will also help you gain the confidence you need to relax and have a good time.
Don't Forget:
Swimsuit
Towel
Identification