Take a horseback riding journey through central Cozumel, following jungle trails to ancient Mayan ruins sites that few ever get to see. From your vantage point on your horse, you'll get to experience the flora and fauna of the Cozumel Jungle, as you make your way to the Mayan Ruins site.
THIS TOUR IS TEMPORARILY UNAVAILABLE
SEE OUR CURRENT HORSEBACK RIDING TOURS
Here, your tour guide will share with you the secrets of the Mayas, and you will gain a fuller understanding of what ancient life on Cozumel was like. Then we will ride along the road to the oldest town in Cozumel, El Cedral, and visit a Mayan Cave, before returning to the ranch.

Jungle Horseback Riding Tour Highlights

Ride your horse through the Mayan Jungle, to explore an ancient Mayan Ruins site!

Have the opportunity to trot, canter, walk, or even run with your horse if you like, an exhilarating experience!

Visit the ancient town of El Cedral, the oldest colony on Cozumel!

See a Mayan cave, where your guide will explain to you the significance and history it contains!
When: Daily at 8:00 AM, 10:00 AM, 12:00 PM, 2:00 PM, and 4:00 PM.
Where: The ranch is located KM 4 across from Caleta Marina.
How Long: 2.5 Hours Approximately.
Includes:
JUNGLE HORSEBACK RIDE (ADULTS & KIDS 5+)

Ship Price

Cozumel Price

Our Price

You Save!

$89.00
$40.00

$31.50

62%

Compare to "Horseback Riding Adventure" Shore Excursion
THIS TOUR IS TEMPORARILY UNAVAILABLE
SEE OUR CURRENT HORSEBACK RIDING TOURS

BOOK NOW AND SAVE!

Date

Time

People



OR CALL US TOLL-FREE
1-866-728-1438


Don't worry - English is our First Language!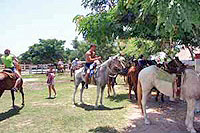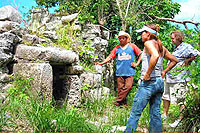 FREE WITH YOUR RESERVATION!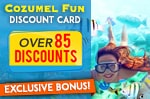 THE COZUMEL FUN CARD
Don't Forget:
Long Pants
Closed Toe Shoes
Camera
Kids: All ages welcome. Kids 4 and under can ride with an adult for free. Kids 5 and up can ride with their own horse but pay adult price.
Notes: Pregnant women cannot do this tour. Weight limit is 300 lbs. This tour involves some riding along the roadway. During periods of rain, we may need to ride along the roadway more than normal.
Tip: After the tour, walk across the street to Mr. Sancho's Beach Club for the rest of the day!
CRUISE TERMINAL LOCATIONS

Punta Langosta

14 min. by Taxi
International Pier
15 Min. by Taxi
Puerta Maya
15 min. by Taxi
Check with your ship to see which pier you are arriving at.
Taxis are lined up waiting for you as you get off the ship. Very easy. Should cost about $13.00 USD from the Punta Langosta pier, and $14.00 USD from Intl and Puerta Maya piers. to get to the ranch.