Get ready for a day of fun fun fun! Hop aboard the famous Fiesta Party Boat for a day of snorkeling, drinking, and activities in Cozumel Mexico! On board Cozumel's most popular booze cruise, you'll boogie as your DJ spins Latin and Caribbean dance beats, and have a blast as the entertainer leads you in games and contests while you cruise on the blue Caribbean Sea.
The boat will drop you off at one of Cozumel's hottest beach clubs - Playa Mia Beach Adventure Park, where you can have fun in the sun all day long! You'll have full use of the facilities, for watersports, swimming, sunning, and snorkeling as well as a full range of other fun activities - this is a true beach day to remember!
Fiesta Party Boat Highlights

Enjoy lively music and an unlimited open bar aboard this festive triple-decker catamaran!

Visit fabulous Playa Mia Beach Adventure Park, where you can enjoy snorkeling, relaxing in hammocks, or have a blast with the water trampoline, kayaks, or climbing water iceberg!

At extra cost, you can try a wide variety of other water sports, including jet skiing, water skiing, parasailing, scuba diving, sailboats, or banana boats!
When: Monday through Saturday between 9:00 AM and 10:00 AM, with the actual start time depending on cruise schedules that day.
Where: The Aldora Pier in downtown San Miguel.
How Long: 4 Hours approximately
Includes:
FIESTA PARTY BOAT (ADULTS & KIDS)

Ship Price

Cozumel Price

Our Price

You Save!

$49.00
$45.00

$40.00

20%

Compare to your ship's "Fiesta Party Boat" Shore Excursion
THIS TOUR IS NO LONGER AVAILABLE

BOOK NOW AND SAVE!

Date

Time

People



OR CALL US TOLL-FREE
1-866-728-1438


Don't worry - English is our First Language!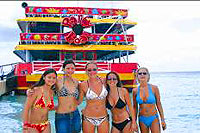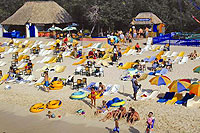 FREE WITH YOUR RESERVATION!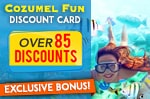 THE COZUMEL FUN CARD
Don't Forget:
Swimsuit
Towel
Camera
Hat
Sunglasses
Kids: All ages welcome.
OUR ADVICE:
If you have kids, we'd recommend choosing a different tour. This is not really a family-oriented tour, it's a party boat.
CRUISE TERMINAL LOCATIONS

Punta Langosta

Short Walk
International Pier
6 Min. by Taxi
Puerta Maya
6 min. by Taxi
Check with your ship to see which pier you are arriving at.
Taxis are lined up waiting for you as you get off the ship. Very easy. Should cost only about $5.00 USD from Intl and Puerta Maya piers. to get to the Aldora Pier.