DISCOVER MEXICO WITH CHANKANAAB PARK
In one afternoon, you can experience the history and culture of Mexico, and the coral reefs and white sand beaches of Cozumel in one convenient excursion! Start out at the Discover Mexico theme park and museum, where you'll take a guided tour through Mexican landmarks and culture, then go to nearby Chankanaab Park, the most famous beach park on Cozumel. Here you can swim, snorkel, relax on the beach, and eat and drink at the restaurant and bar.

Discover Mexico & Chankanaab Park Highlights

Take a guided walk through Mexico's treasures!

Travel Mexico in the Video Experience Room!

See hand made pieces at the popular Art Gallery!

Enjoy snorkeling on Cozumel's coral reefs!

Relax on one of Cozumel's white sand beaches!

Eat and drink at beachfront restaurants and bars!

Watch playful dolphins in the dolphinarium!
Add-On: Royal Dolphin Swim + Transportation
Read More: Discover Mexico and Chankanaab Park
Cruise Passengers: This tour is available to all cruise passengers except those on Carnival ships.
When: Park hours are Monday through Saturday from 8:00 AM to 4:00 PM. You can come anytime during those hours, but guided tours run at 10:00 AM and 1:00 PM. Groups of 5 or more can have a guided tour at any time.
Where: Discover Mexico Park is located about 7 minutes south of downtown, walking distance from the Puerta Maya cruise pier.
How Long: Guided tour at Discover Mexico takes about 2 hours. The rest of the day is up to you, given park hours.
'Includes:
Entrance Fee to Discover Mexico Theme Park
English-Speaking Tour Guide
15 Minute Introduction to the Park by your Guide
90 Minute Guided Tour of the Park
Taco Buffet at Discover Mexico Park
A Complementary Drink (Soda, Water or Beer)
A Virgin Margarita is Included for Kids
Access to Discover Mexico Park Facilities
Taxi Ride to Chankanaab Park (10 minutes)
Entrance Fee to Chankanaab Park
Sea Lion show at Chankanaab Park
Access to all Chankanaab Park Facilities
DISCOVER MEXICO (ADULTS)

Compare At

Our Price

You Save!

$65.00

$58.50

10%

Prices are Per Person and Include All Taxes and Fees.

DISCOVER MEXICO (KIDS 4-12)

Compare At

Our Price

You Save!

$40.00
$36.00
10%
BOOK NOW AND SAVE!

Date

Time

Adults

Kids



OR CALL US TOLL-FREE
1-866-728-1438


Don't worry - English is our First Language!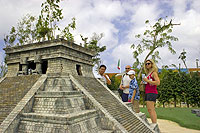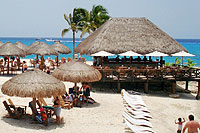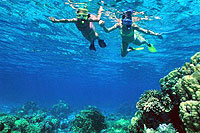 FREE WITH YOUR RESERVATION!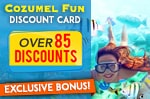 THE COZUMEL FUN CARD
OUR ADVICE:
An excellent choice for first-timers to Cozumel and families. You will get to learn about Mexico's history and culture at Discover Mexico, then explore Cozumel's underwater world by snorkeling in Chankanaab, plus get some time on the white sand beaches and see some of the interactive exhibits.
Don't Forget:
Camera
Comfortable Walking Shoes
Extra Money for Snack Bar and Souvenirs
Kids: All ages welcome. Kids prices apply to ages 4-12 years. Kids under 3 years old are free.
Note:
If you are on a Carnival Cruise Lines ship, you cannot book this tour. Luckily everyone not on a Carnival ship can book this tour at our great discount price!
CRUISE TERMINAL LOCATIONS

Punta Langosta

7 Min. by Taxi
International Pier
1 Min. by Taxi
Puerta Maya
10 Min. Walk
Check with your ship to see which pier you are arriving at.
Taxis are lined up waiting for you as you get off the ship. Very easy. Should cost only about $9.00 USD from the Punta Langosta Pier to get to the park.