Deep sea fishing in Cozumel is a hugely popular activity, especially in the warmer months where the waters are filled with sailfish, marlin, wahoo, mahi mahi, tuna, and more. Imagine cruising the crystal-clear blue Caribbean waters as the sun shines down, warming you while you sip an ice cold beer or soft drink. Suddenly the line goes tight and you start the fight! At the other end of the line may be that sailfish or marlin you've been dreaming about!

Your crew
Our captains and crews are among the most experienced in Cozumel, participating in all the tournaments, and holding many trophies. The boat is private, just you and your crew will be onboard.
Methods
Deep sea fishing in Cozumel is normally done by trolling using downriggers and outriggers. There are up to 6 lines in tow at all times, and our private charters ensure that you'll be reeling them all in yourself, which of course maximizes your group's chances of being the one to land those prize fish. We're in sight of land most, if not all of the time, because the bottom drops off to nearly 2,500 feet shortly offshore and the reefs form a natural barrier to keep the game fish close to shore. This is where the best fishing is.
The Fish
Billfish season runs from February through July. Mahi Mahi (Dorado), Wahoo, and Tuna also run throughout the spring and summer months. In the winter, the focus switches to Jack, Snapper, Mackerel, Bonita, Grouper, Wahoo and Barracuda.
COZUMEL FISHING SEASONS

Month
Best Fish
January
Red Snapper, Grouper, Jack, Barracuda
February
Beginning of Billfish Season
March

Sailfish, Red Snapper, Barracuda

April

Sailfish, White Marlin, Wahoo

May

Sailfish, White Marlin, Blue Marlin, Dorado

June

Sailfish, White Marlin, Blue Marlin, Dorado

July

Sailfish, White Marlin, Blue Marlin, Dorado

August

Dorado, Tuna, Red Snapper

September

Dorado, Red Snapper, Jack

October

Red Snapper, Jack, Barracuda

November

Yellowtail, Jack, Barracuda, Wahoo

December

Barracuda, Jack, Wahoo, Red Snapper
Cruise Passengers: Yes! This excursion is open to all cruise passengers as well as hotel guests. Escape the crowded cruise excursions with this exclusive tour.
When: Daily, on Your Schedule. You pick the start time!
Where: Boats depart from Marina Caleta.
How Long: 4 Hours, 6 Hours, or 8 Hours, your choice.
Includes:
Fully Equipped Tournament Fishing Vessel
All Tackle, Gear, and Bait
English Speaking Captain and Crew
Fishing License
Lunch on 8 Hour Trips
Beer, Soft Drinks and Water
Don't Forget:
All Prices are for the Whole Boat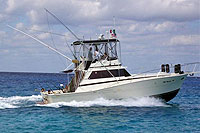 40' Viking with A/C
Up to 8 Passengers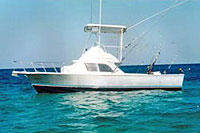 Full Size (30-34 Feet)
Up to 6 Passengers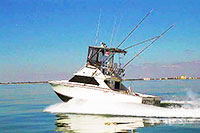 Economy (28-29 Feet)
Up to 4 Passengers
CRUISE TERMINAL LOCATIONS

Punta Langosta

7 Min. by Taxi
International Pier
3 Min. by Taxi
Puerta Maya
3 Min. by Taxi
Check with your ship to see which pier you are arriving at.
Taxis are lined up waiting for you as you get off the ship. Very easy. Should cost only about $5.00 USD from Intl and Puerta Maya piers and $6.00 from Punta Langosta.